Student Loan Debt Crisis Continues to Escalate
The student loan crisis escalated further in the second quarter of 2012, as the amount of outstanding debt reached the highest level ever recorded. A new report from the New York Fed suggests that even while the rest of household debt improved since March, driven by decreasing credit card and housing debt, student loans have worsened. Their report finds that, while overall household indebtedness declined $53 billion from the first quarter of 2012, student loan debt rose $10 billion to reach its $914 billion peak.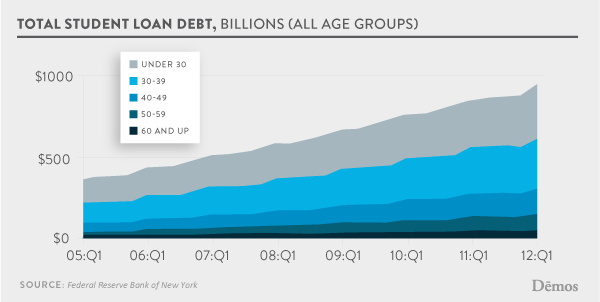 The picture is even bleaker than it appears. Although the delinquency rates for student loans rose to 8.9%, that number is understated. It doesn't account for people who are currently in a deferral period from their loans or for students currently enrolled in college, who've taken on more student loan debt than any preceding generation. Should you exclude students currently in college, and who are therefore exempt from becoming delinquent, the delinquency rate rises from 8.9 to 21%. That's a startling high number, double the amount of credit card delinquencies (10.9%).
This reinforces Demos' findings in our State of Young America report that student loan debt is a huge and growing problem for every generation. Acting to help underwater borrowers would provide a substantial boost to the recovery, as student loan debt has proven itself to be a huge drag on ordinary Americans.
Bookmark/Search this post with