"Not happy with your job? Just wait," the Associated Press instructed young peopleon Sunday.
Memo to 20-somethings: You might be waiting a long time.
Nine out of 10 workers aged 50 or older said they're somewhat or totally satisfied in their jobs, according to a new AP-NORC Center for Public Affairs survey. Over the survey's 40-year history, researchers have found that the share of workers that are satisfied with their jobs tends to grow with age. That's because as workers get further along in their careers, they usually make more money and have more control over their jobs.
But there are a few reasons why it may take today's young people longer than their Baby Boomer parents to get to that happy place.
A large share of young people are starting their careers in a field for which they feel overqualified and in which they don't want to work, according to a report earlier this year from McKinsey on Society.
[...]
The result is that young Americans are building wealth at a slower pace relative to their older counterparts. Older Americans had 44 times as much wealth as younger Americans in 2009, up from 13 times as much in 1984.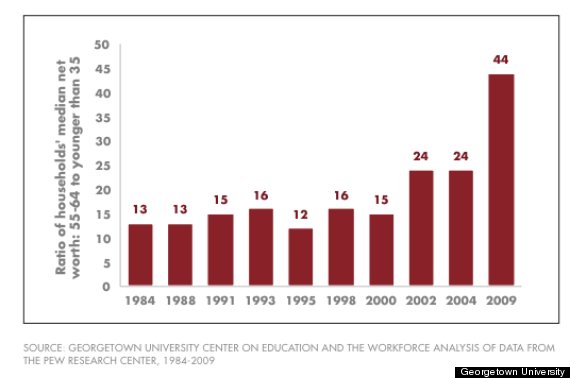 At the same time young people are struggling to find a decent-paying job in their field, they're being crippled in record numbers by student loan debt. A household with $53,000 in outstanding student loans -- the average college debt balance for a family headed by two people with college degrees -- will be $208,000 poorer on average than their counterparts with no debt, according left-leaning research organization Demos.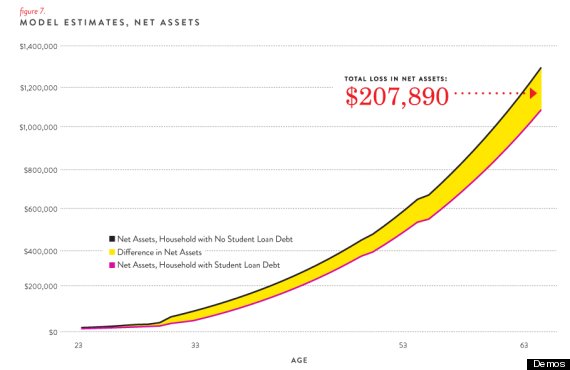 So it may take more than just 30 years of waiting for today's young workers to end up in careers that make them as happy -- and as rich -- as their older colleagues.
Read the report: At What Cost? How Student Debt Reduces Lifetime Wealth