Outside money transforms California's income inequality, among the worst in the country, into political inequality.
That's evident in the ongoing fight over Proposition 30, Governor Jerry Brown's attempt to solve the state's budget deficit and maintain funding of California schools by raising taxes on individuals making over $250,000 dollars a year. The initiative is badly needed. Without Proposition 30, California's budget deficit would slash funding from public education.
That's a problem, as California already lags behind the rest of the country in terms of education spending, achievement, class sizes, and, unsurprisingly, results: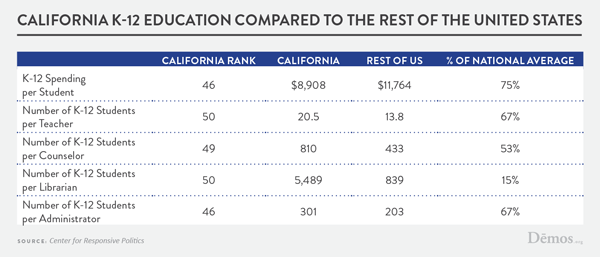 That's not a result of excessive compensation or bureaucracy, as the low administrator to student ratio underscores, it's the result of inadequate funding. California remains hamstrung by the success of Howard Jarvis' anti-tax movement in the 1970s.
All politics is local. Sheldon Adelson and the Koch brothers have received the lion's share of media coverage regarding dark money at the national level, but local dark money could have even more influence.
To fight back, activists tomorrow will protest Jerry Perenchio, the founder of spanish-language channel Univision, in response to his $200,000 donation against Prop. 30. The four zip codes surrounding Perenchio's have contributed 20% of the reported funding for Proposition 30. As a countermeasure, Re-Fund California, a coalition of Proposition 30 proponents, will bus students and teachers into Perenchio's wealthy -- and influential -- neighborhood, during one of the state's budget-mandated no school days. They'll have a school day on his $50 million property to demand that millionaires like him pay the taxes needed to fund their schools. 
Perenchio embodies the problems of dark money, particularly when it's arrayed against the interests of the broader public. He's given $50 million to a wide variety of political causes over the past couple of decades. In this cycle alone, he's donated over $2 million dollars. The Sunlight Foundation reveals that Perenchio's donations to national dark money groups like American Crossroads, Karl Rove's operation, are matched by his donations to state and local issues. 
A revealing passage from Sunlight's fantastic report:
"But, despite reports that he is the biggest landowner in Malibu, and worth $2.3 billion according to Forbes, Perenchio has been described as a "zelig"-like creature. He pops up everywhere — the friend of mayors, governors, presidents and movie stars — always wins big on his business interests, but remains enigmatic."
The problem isn't isolated to Perenchio. Wealthier zip codes are wielding disproportionate power. As the chart below demonstrates, expensive LA zip codes like Perenchio's have given disproportionate amounts of money to political campaigns.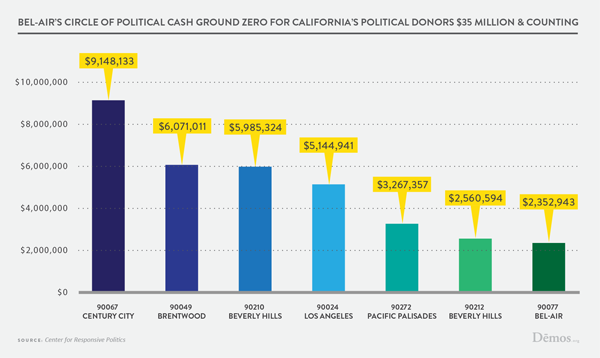 The elite in California, much like the rest of the country, have come to dominate the political process. Putting real children in the face of that elite crystallizes the decision awaiting California, and the country, come November.
Should our government support kids or the rich?