Even beyond voter ID, the rightwing plans on exercising extralegal, but not necessarily illegal, measures to suppress the vote in 2012. Bullies at the Ballot Box, a new report released jointly by Demos and Common Cause, surveys the state of the laws of ten states: Colorado, Florida, Missouri, Nevada, New Hampshire, North Carolina, Ohio, Pennsylvania, Texas and Virginia.
The report comes after True the Vote, which grew out of a branch of the Texas Tea Party, has ramped up its voter intimidation in advance of the presidential election. Their goal? To recruit a million thugs to monitor polls this November.
Though they likely won't recruit that many volunteers, True the Vote is well on its way to swaying the election in crucial battleground states. And their funding remains opaque.
Earlier this year, the chair of the Texas Democratic Party questioned their grassroots status, arguing that
Nobody gets to know what they are doing. They are the one and only political operation in Texas that isn't disclosing its donors.
The Huffington Post investigation is well worth a read in its entirety.
True the Vote has already involved itself in nearly every voting controversy this year. For example during the Wisconsin recall, they challenged the validity of the petition to recall Scott Walker.
True the Vote's audit claimed only half of the signatures were eligible. However, the official audit by the Government Accountability Board said that over 900,000 were eligible, and that only five fictitious names were added.
That's not all. On top of lobbying for expanding voter ID laws, True the Vote sent poll watchers to largely black precincts around the state, a practice they hope to expand for the general election. True the Vote's President Bill Ouren famously said that poll watchers will make voting like "driving and having the police follow you."
To get a sense of just how big this national intimidation has expanded, a fantastic infographic from Colorlines: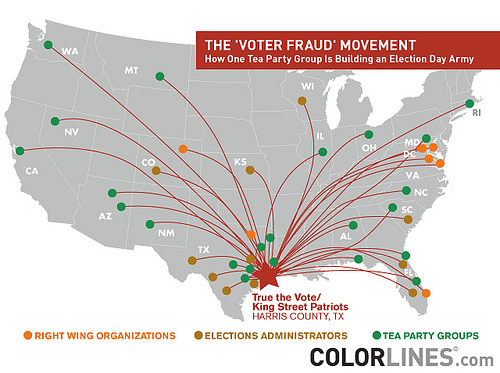 So, where do states stand in protecting voters from unlawful intimidation?
The report finds that Pennsylvania and Florida, key battleground states, were both ranked unsatisfactory in the way they treated challenges to voter registration and voters' right to vote on election day. That's particularly notable because Florida, a crucial battleground state, is also the locus of True the Vote's mobilization.
It's no coincidence that these efforts come to prevent the reelection of the country's first black President. I'd point everyone who hasn't read it yet to Ta-Nahesi Coates' excellent essay, "Fear of a Black President" that exposes the racism at the heart of these voter intimidation efforts.
In a democracy, so the saying goes, the people get the government they deserve. Part of Obama's genius is a remarkable ability to soothe race consciousness among whites. Any black person who's worked in the professional world is well acquainted with this trick. But never has it been practiced at such a high level, and never have its limits been so obviously exposed.
Ample studies and anecdotes confirm the obvious: voter intimidation today, much like throughout history, predominantly targets minorities. Poll watchers not only make it more difficult for minorities to vote by challenging their claim to legitimacy, their mere presence evokes our shameful racial history. Voter intimidation efforts, much like voters ID laws, could have a serious impact come November.
The Common Cause and Demos report shows, clearly, that it's time for states to step up and pass laws preventing harassment and intimidation.