Cecile Richards is a progressive force to be reckoned with.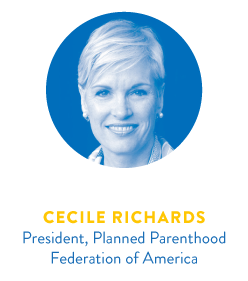 As president of Planned Parenthood Federation of America, Cecile is well known as a strong and inspiring advocate for women's rights and comprehensive reproductive health care. Through her leadership, vision, and advocacy, Cecile makes sure the two and a half million men, women, and children who visit Planned Parenthood health centers every year can get the care they need.
We're thrilled and humbled to honor Cecile at our Transforming America Awards & Gala on June 1 in New York City. 
Cecile's advocacy for social, economic, and democratic justice isn't new—for more than 30 years, she's worked to improve the economic and political lives of millions in this country, particularly women and people of color. From organizing working-class men and women in hotel, health care, and janitorial industries to founding America Votes, her work spans the progressive movement.
Each year, Demos recognizes leaders who are transforming America for the better. We honor the people, organizations, and movements that challenge our country to be a true democracy: one that empowers all Americans with an equal say in our democracy and an equal chance in our economy. Cecile Richards epitomizes these ideals.
For Cecile, lifting up the most vulnerable members of our communities is critical to creating a healthier, safer, and more equal America for us all. Demos is proud to count her as a partner in our work for a diverse, economically secure, and truly democratic America.