#SayHerName Sandra Bland
Our hearts are shrouded, but our vision is clear: we see a world without fear for all of our people—a world where there is no dispute that #BlackLivesMatter.
On Tuesday, July 10, Illinois native Sandra Bland, 28, was on her way to start a new job at her alma mater, Prairie View A & M University. After being stopped for—the police officer claims—changing a lane without a signal, Sandra was arrested. Still in jail three days later, Sandra was found hanging dead in her cell. While the official story is suicide, there is strong reason to doubt the police's claims. Sandra was in contact with a bail bondsman just hours before her tragic death.
Yesterday, I watched the Bland family's press conference live from an MSNBC studio. I have to be honest: it was difficult to find words for live television in that moment—but Sandra's sister called on all of us to continue using the media to say her name, to call for justice, and to speak the truth.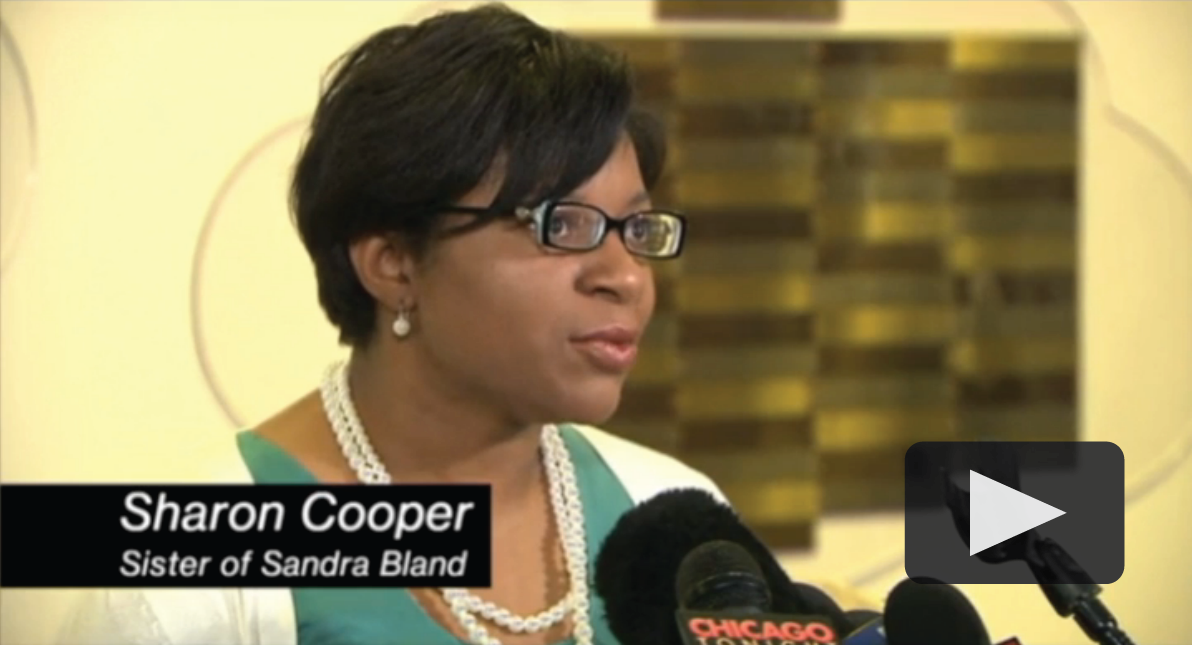 Lanitra Dean, a long-time friend of Sandy, described her as "a warm, affectionate, outspoken woman." Sandra was also a vocal citizen activist inspired by the Black Lives Matter movement to post video commentary condemning police brutality on her Facebook page with the hashtag #SandySpeaks.
Sandra's story follows a long list of Black women and men whose main crime was daring to be Black, daring to resist inhumane policing, and daring to demand basic human respect.
The arresting officer's official police report claimed Sandra assaulted him, but video footage from the officer's dashboard camera tells a different story. Over the course of the 52-minute video, Sandra and the officer's interactions become increasingly tense. After she refuses to extinguish a cigarette, the officer demands she get out of the car. When she refuses, the officer points a Taser at her and says, "I will light you up." In the video, you hear her demand at least a dozen times to know why she is being detained. Instead of giving her a direct answer, audio from the footage makes it clear that the officer grows increasingly violent, even slamming Sandra's head against the ground.
Sandra's death is a tragedy, from beginning to end. A routine traffic stop should not end in arrest, much less the loss of a young woman's life.
These tragedies compound, and are forcing our country to shed the cloak of denial to demand action: action on police accountability, action on mass incarceration, and action on the dehumanization of our people because of the color of their skin.
We are not without solutions. The House Judiciary Committee Democrats introduced a package of criminal justice reforms yesterday.
Learn more about the proposals here.
Throughout our nation's history, individual tragedies have spurred action for systemic reforms. How many more tragedies must we endure before we make real concerted efforts to fix our broken criminal justice system, before we fix deadly policing practices? How many African American deaths are too many? Sandra's life was too many, as was Kindra Chapman's, Walter Scott's, and Eric Garner's.
Please take a moment today to take one action—online or offline—in support of the growing movement of Americans of all races who share a vision of a more just society. Or make a donation to hire a private investigator to investigate the Texas Department of Public Safety and Waller County Prosecutor and Sheriff
Bookmark/Search this post with