Demos Announces Landmark Registration of 1 Million New Low-Income Voters Among The 99%
As public concern grows over deepening economic and political inequality, there's good news to report in five states: 1 million additional members of the 99 percent have filled out voter registration forms at public assistance agencies since 2007.
This milestone reflects Demos' work helping five states — Ohio, Missouri, North Carolina, Virginia and Illinois — to fully implement the National Voter Registration Act of 1993 (NVRA), specifically the often-neglected public agency registration requirements, otherwise known as "Section 7". It is proof that when laws to protect peoples' democratic rights are put into practice, they can have a major impact on bringing more voices into the political process. If more states follow suit, millions of additional lower-income Americans will have the opportunity to participate in our democracy in coming years.
For the past several years, Demos and its partners have been working with state officials to properly implement Section 7 of the NVRA after finding that many states neglected their obligation to provide voter registration services to applicants and recipients of public assistance benefits. Congress intended these requirements to work in tandem with the more familiar "Motor Voter" provisions of the NVRA, under which voter registration is widely available at motor vehicle offices. By ensuring that eligible individuals from all walks of life could have convenient access to voter registration, the NVRA sought to encourage broad participation in voting.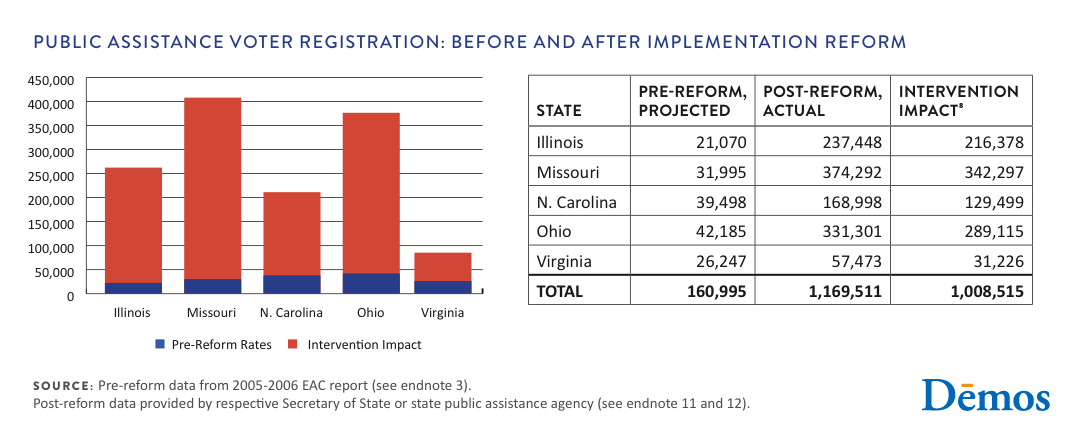 Click image to enlarge