A Long Summer Ahead for Youth Unemployment
For many young people, summer is an opportunity to gain much needed job experience and a steady paycheck. Seasonal hiring in the industries where young people are most likely to work—like leisure and hospitality—should mean that even in a period of slow job growth people with less job experience can get in on the action.
But the unemployment numbers released from the BLS on Friday show that this year it's more likely to be the older worker serving poolside concessions, as people over 55 once again took the lion's share of new employment.
Even though eating and drinking establishments and retailers were among the top growing sectors in May (with 38,000 and 28,000 jobs added respectively), people in their early 20s lost ground. Workers ages 25 to 34 saw enough gains to more than make up for losses in the month before, but still achieved only 78 percent of the growth in total employment seen by workers over 55.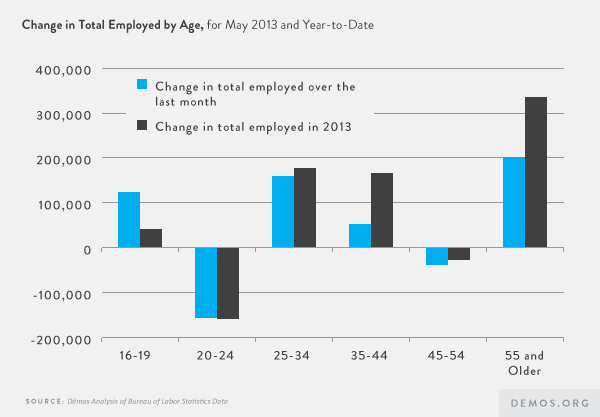 The big employment losses among people ages 20 to 24 are masked in the unemployment rate for the cohort, which barely ticked up to 13.2 percent.
Since unemployment rates only capture those people who are employed or actively looking for a job, the numbers are influenced not just by hiring and firing, but also by workers entering and leaving the market.
Looking instead at employment as a share of the population reveals a more complete picture of the trend. This employment measure declined in May, wiping out any gains for the age group made so far this year. The employment-population ratio of 20 to 24-year-olds dropped from 61.6 percent in April—the high in 2013—to 60.8 percent last month. Just 61 percent of people in their early 20s are working at all, leaving more than 2 million 20 to 24-year-olds unemployed and 6.6 million out of the labor force altogether.
Workers ages 25 to 34 fared much better last month than their younger associates. The unemployment rate for 25 to 34-year-olds dropped to 7.2 percent in May, its lowest point since November of 2008. At the same time, labor force participation held steady, moving up to 81.3 percent. Participation rates for this cohort still stand below where they were at the beginning of 2013 and below their percentage from one year ago. However, with substantial employment gains in May and participation rates roughly unchanged, the employment population ratio for 25 to 34-year-olds climbed to 75.5—its highest point since December.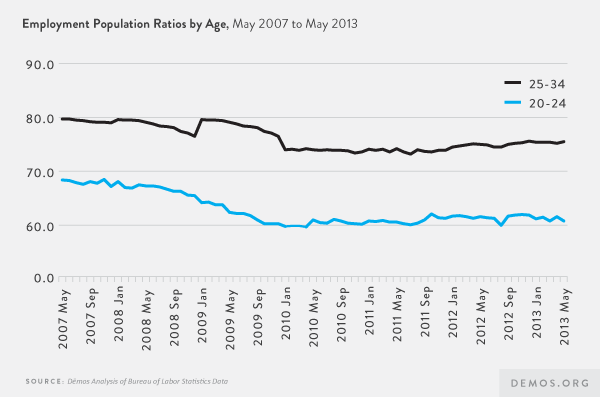 As a share of the young adult population, employment is even lower now than it was at the recession's official end in June 2009.
The supposed recovery in the years since has yet to reach the young adult labor market. Meanwhile, policy makers have deferred any action to address the jobs crisis in favor of deficit obsession and deliberate obstructionism toward policies like social investments or wage raises aimed to give workers a fair chance in the economy. As a result it is our implicit economic policy to condemn young people to one long idle summer—4 years and counting with no end in sight.
Bookmark/Search this post with