The Congressional Progressive Caucus Budget Makes the Right Investment in Higher Education
We're in the throes of budget season, the annual tradition where the White House and various Congressional factions lay out their taxing and spending wish-list for the coming year. While budget proposals are inherently political documents, this is always the best time of year to do some apples-to-apples comparisons of political and fiscal priorities of each party (and in some cases, the wings of each party).
Today, the Congressional Progressive Caucus is announcing its annual budget proposal, and it's chock full of goodies that Demos has been advocating for that increase upward mobility and shared economic prosperity, and reduce economic and political inequality. These include a Financial Transaction Tax, increases in the minimum wage and the wage of federal workers, public financing of campaigns, and increased spending on infrastructure. You can also read a full analysis of the budget over at EPI.
But since higher education is my purview around these parts, I'm genuinely excited to see the CPC include The Affordable College Compact, our 2014 proposal to increase state investment in higher education and return college to an affordable—read, primarily debt-free—endeavor, in the budget. You can read our paper here, but it's important to highlight why we desperately need to get states off the sidelines and into the game of higher education again.
First, the cuts over the past several decades (and specifically during the Great Recession) have been so steep that public higher education is barely even a public good anymore. Over the past 25 years, states have cut per-student funding by 29 percent. Fifteen years ago, nearly every state invested more in college than they received from students in tuition. Now, around half of states rely more on tuition than they do from state and local appropriations. In other words, we've shifted the cost of college onto students and families (and the federal government, in some cases) in an era of massive wage stagnation—and wage declines for those without a postsecondary credential.
Second, our system is simply inequitable. Low-income students, even after receiving grant aid, must cobble together around three-quarters of their family's income to attend just one year of four-year college:
Low-Income Families Must Spend the Vast Majority of Their Income on Unmet Need

Net Cost of College, After Grant Aid, As a Percentage of Family Income

Public 4-Year

Private 4-Year

Bottom Quintile

74%

82%

2nd Quintile

41%

57%

3rd Quintile

29%

41%

4th Quintile

22%

31%

Top Quintile

14%

21%

Source: U.S. Department of Education, National Center for Education Statistics, 2011-12 National Postsecondary Student Aid Study (NPSAS:12). Percentages are for dependent students attending college full-time for a full year.
It's no surprise, then, that for students who end up graduating, debt is highest for low-income and minority students—even at public institutions. These are institutions who have traditionally been viewed as engines of economic prosperity and opportunity, and who were formed with a mission to provide the option of a low-cost, quality education to all residents of their state, regardless of race or class.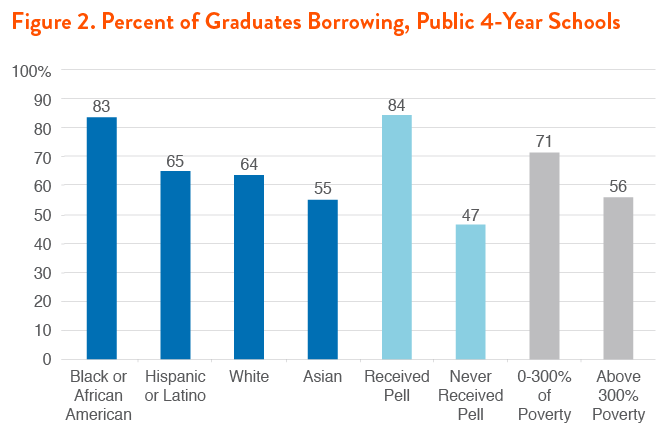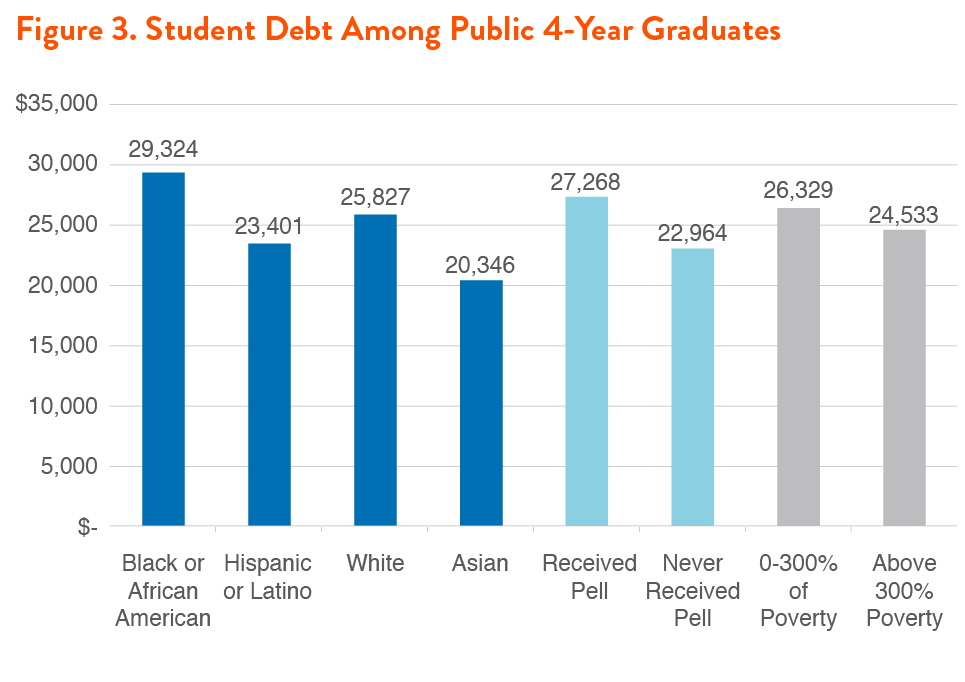 The Affordable College Compact, and proposals like it, would incent states to return to an era when college could be funded through a summer job, part-time employment, and maybe modest savings when available, for the largest and most diverse generation of students in our history.
It would provide states with some relief from the budgetary pressures that provoked these massive cuts in the first place, and the funds would be provided to the students who need it the most. It would require states and colleges to be forthcoming about the outcomes of their students, and ensure that they're enrolling their fair share of students from all backgrounds—not just limiting access to middle- and upper-income students who already attend and graduate in high numbers.
And the investment we're calling for—perhaps up to $30 billion annually, depending on state participation—is the same amount we spend on higher education through the tax code right now, not to mention other less justifiable tax breaks and other programs. It's a reasonable measure of our commitment to reducing undergraduate student debt across the board, and removing barriers of opportunity for those students who stand to gain the most from a college degree.
Bookmark/Search this post with