Senate Republicans Rushing to Install Trump Yes Man as AG
Donald J. Trump has authoritarian tendencies, a dizzying array of conflicts of interest, and according to experts, will be in violation of the U.S. Constitution the moment he assumes office—in short he's a genuine threat to American democracy.
This makes the role of the top enforcer of the law, the Attorney General (AG), even more important than ever. That includes making sure everyone from the President on down is abiding by the rule of law. The AG oversees the Department of Justice' Office of Legal Counsel, which provides the President with independent legal advice and holds the Administration accountable by enforcing laws against government abuse, including appointing a special prosecutor if necessary.
We need a strong, independent AG who will stand up to President Trump if he tries to profiteer off American power, bring back torture, crack down on the press, or otherwise abuse his power.
Is Trump's nominee Sen. Jeff Sessions up to the task?
Early signs aren't good. People for the American Way's Arn Pearson pointed out:
Sessions was the first U.S. Senator to back Trump in his bid for the presidency and bought into the campaign whole hog. He served as a close advisor, coached Trump on his VP pick, used a top aid to help craft Trump's stance on immigration, and took the public position that grabbing a woman's genitals is not sexual assault….Session's political loyalty to Trump and his insider status with the campaign raise serious questions about whether he can faithfully serve as "the people's lawyer," not Trump's, in the face of thorny and inevitable ethics issues.
In addition, Sessions has a troubling record on key issues he'd oversee as AG, including civil and human rights—so troubling that his 1986 nomination to become a federal judge was scuttled due to furor over racist statements and actions. Sadly, thirty years later, there's no indication he's changed a bit.
Given the importance of the position and significant questions about Sessions' fitness, it's critical that the Senate Judiciary Committee and the American public are able to thoroughly evaluate the nominee's qualifications before the full Senate votes on confirmation.
But Judiciary Committee Chairman Chuck Grassley is currently in a tremendous, irresponsible rush to push Sessions' nomination through the Judiciary Committee before the Committee and the public have a chance to fully review Sessions' extensive record.
The Committee normally schedules hearings at least thirty days after a nominee responds to its standard request for information, known as the Senate Judiciary Questionnaire. This practice provides the Committee and the public adequate time to review the nominee's record and prepare for a thorough, substantive hearing.
Sen. Sessions submitted his Questionnaire on December 9 and Chairman Grassley immediately scheduled a hearing for January 10-11, 2017. This would be an extremely fast turnaround to review the thousands of speeches, interviews, policy statements, lawsuits and other records of someone who has been in public life for several decades—even if everything relevant were included in the filing.
Sen. Sessions' Questionnaire response, however, is woefully incomplete, with hundreds of important omissions that prevent the Committee and the public from adequately assessing his candidacy. As just one egregious example, Sen. Sessions' initial submission even omitted his unsuccessful nomination to the federal bench discussed above.
Senator Sessions' incomplete response is ironic given that the Senator himself wrote in 2010 that a judicial nominee's failure to provide a fully responsive Questionnaire showed "extraordinary disregard for the Committee's constitutional role" and was "potentially disqualifying."
And, even though Sen. Sessions has submitted more than 150,000 pages of materials, Senate Republicans have not made the vast majority of those materials available for public review on the Committee website.
Chairman Grassley should immediately cancel the January 10-11 hearings; demand a full and complete Questionnaire from Sen. Sessions; and reschedule his hearing for at least thirty days after complete materials are submitted.
More than ever, Americans need a strong, independent Attorney General to stand up to Donald Trump. The stakes are too high to rush through a yes man without looking carefully at all the facts.
---

Please help us spread awareness of Sessions' rushed nomination and lack of transparency by sharing this image on social media.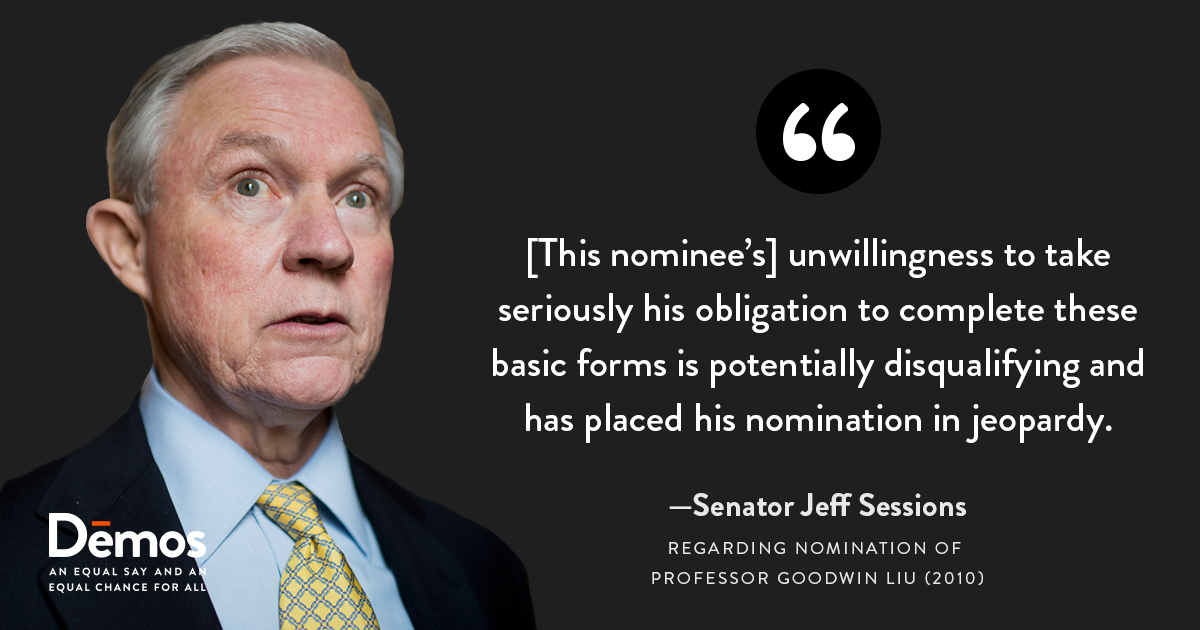 Bookmark/Search this post with